- Our Services -
Teaching Family Homes of Upper Michigan is a leader in the treatment and care of troubled boys and girls throughout Michigan through its development of programs to meet the ever-changing needs of these children and their families. Our phone number is (906) 249-5437.
If you need information for youth referral services please visit the Referral page.
Programs:
Teaching Family Homes offers a continuum of care through its variety of cutting-edge programs to help children, families and other child-care providers. Below is a list of these programs.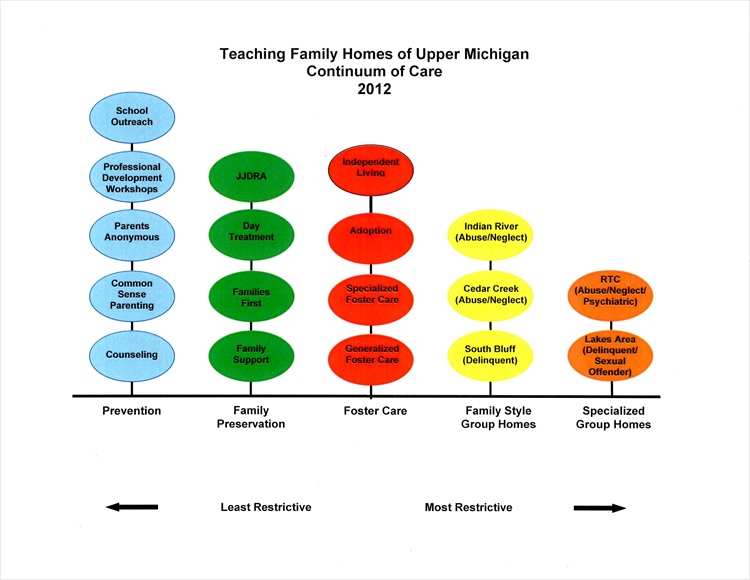 Residential Group Homes:
There are three community based residential-care homes for troubled youth, featuring family style living in the least-restrictive environment: Cedar Creek, Indian River, and South Bluff all located in Marquette, Michigan.
The Lakes Area Program exists to help troubled boys, ages 10 to 17, with delinquency problems including sexual and substance abuse issues.. The center, located in Newberry, Michigan combines a cognitive behavioral treatment approach in a staff secure setting and offers on-site educational and counseling services.
Located in Marquette, Michigan, the Regional Treatment Center was developed for children with a psychiatric diagnosis and prior hospitalization. Featuring a staff secure environment including special education school, social work and counseling services on-site.
Family Preservation Services:
*Families First is an intensive in-home counseling and education service for families in crisis. Family Specialists directly work with these families to build upon their strengths, teach new skills and keep them together as a functional and vital family unit. Families First is offered in Marquette, Delta, Dickinson, Menominee, Houghton, Gogebic, Baraga, Iron, Keewenaw, and Ontonagon counties.
*Juvenile Justice Diversion and Reintegration Alternatives program serves delinquent youth who are at risk of being removed from their home. This is currently available only in Chippewa County through a contract with the local Department of Human Services and Juvenile Court and Sault Tribe of Chippewa Indians.
*Family Support Program (FSP) is a home-based program that provides a range of services to families including parenting skills education, family, individual, marital instruction, and/or life/home management skills. The Family Support Program (FSP) provides individualized family interventions. The Family Specialist and the family will work together to achieve the family's goals. This program is available in Alger, Luce and Schoolcraft counties.
Foster Care Services: Foster Parents  and Homes Needed
For children who need a family to provide a nurturing living environment for them to live and grow. This program provides treatment and care to children who have been removed from their homes for a number of reasons. Teaching Family Homes recruits, selects, licenses and carefully trains foster parents, who take children into their private homes and provide them with treatment in supportive nurturing environments. This program is available throughout the region. Please visit the Foster Care page for more information.
Adoption:
Teaching Family Homes provides adoption services including home studies and matching of parents and children.
Counseling and Assessment Services:
Individual and group counseling services are available in Delta, Schoolcraft and Marquette Counties. Psychological and behavioral assessments also are available. Adult and youth groups can be arranged to serve a number of issues. Providing help with:
Self-Esteem
Traumatic Experience
Parenting Skills
Grief/Depression/Anxiety
Marital Concerns
Sexual Abuse
Aggression
Domestic Violence
School Issues
Work-Related Concerns
Parent Training and Support Services:
Common Sense Parenting:
This program provides a series of comprehensive parent training sessions, adapting Boys Town's effective child-care methods to help today's families grow stronger in constructive and appropriate ways.
Professional Development Workshops:
Providing training of child-care technologies, expertise and assistance to other child-care organizations and            professionals,  school districts, mental health facilities and other individuals and organizations.
Working With Aggressive Youth
Teaching Social Skills to Students
Behavior De-escalation
Relationship Building
Effective Praise
Positive Behavioral Support
Motivating Clients/Staff
Effective Communication Skills
Teaching Alternative Behaviors
Preventing Negative Behavior
Crisis Management
Successful Family Living
Educational Services:
Our campus offers a Day Treatment classroom for students who are unsuccessful in the public education system. In Marquette, Michigan, Teaching Family Homes has teamed up with the Marquette-Alger Regional Educational Service Agency to provide an alternative elementary classroom and support to regular and special education students.  Teaching Family Homes staff also are contracted by local school districts and charter schools to provide Positive Behavioral Support,  Counseling and Assessment services.
 Please contact us for further information.
(906) 249-5437