Do You Remember Summer Ca

mp?
Swimming lessons, making friends, archery and arts and crafts. Summer camp was such a vital part of growing up for so many of us. But for some children in Upper Michigan, summer camp is little more than a dream. Because of limited resources, children in group homes or foster care often spend summers at home while their friends set off for camp. Teaching Family Homes of Upper Michigan aims to change that, and make summer camp a reality for every child. Camps are located at Camp Nesbit in Houghton County or Camp Chair Lake in Alger County. Returning campers have re-named the camp to "Camp O'Hana." In Hawaiian this means family, which as one camper put it, is what matters most.
Printable flyer is available at this link - Camp O'Hana brochure!
This year's camp was held  August 17 - 21, 2015.
You can help us today by sponsoring a child at our on-line store.
Letting Every Child Have A Chance to Just Be a Kid!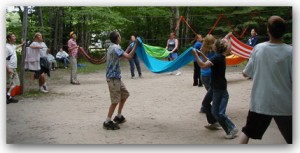 Children in group homes, foster homes and family-intervention programs often come from abusive and neglected homes. These children spend each day rebuilding their troubled past. They have struggled with so much in their young lives, and often have the weight of the world on their shoulders. Camp O'Hana allows these children, coming from every corner of Upper Michigan, to just be regular kids for a week, while continuing to grow, learn and thrive.
Over the five-day Camp O'Hana experience, children participate in a variety of different camper activities. Programs such as high and low ropes course challenges, orienteering, canoeing, fishing, crafts, and group problem solving activities teach valuable skills. Campers learn trust and responsibility, teamwork and problem-solving skills and find activities to let their often-overlooked talents shine. Campers are encouraged to try new things and explore newly discovered skills. All events at Camp O'Hana, from arts and crafts to mess hall clean-up, are designed to challenge campers and help them to grow and succeed.
Send a Child to Camp. Make a Difference in the Life of a Child.

Teaching Family Homes provides the staff and supervision necessary to have a safe and happy camp experience. All remaining costs for camp come from concerned community members and organizations. Expenses such as meals, insurance, camp rental, a lifeguard and recreational materials need to be covered each year. The cost to send one child to summer camp for an entire week is just $200. The benefits to a child, and the lifelong lessons learned at Camp O'Hana, are priceless.
For more information, or to donate funds to help send one of our kids to camp, contact rrossway@tfhomes.org, or call 1-800-292-5260.