Adopt A Child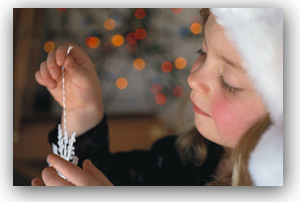 What comes to mind when you think of the Holidays?  Is it memories of being at your grandparent's house, sharing new toys with siblings and cousins?  Do you think of preparing amazing meals with the rest of your family and finally sitting down to enjoy it?  Or is it the thought of a loved one opening a gift that you had given them?
The Holidays are a time filled with joyful memories of time spent with family and friends.  But what if you didn't have fond memories of the Holidays? What if you felt like there was nothing to look forward to?  You don't expect any gifts or special meals that take hours to prepare, or even the presence of family.  Many of the children here at Teaching Family Homes have been through horrific, unimaginable experiences.  They don't know what to expect on Christmas morning, who will be there, or if Santa will even come?  We want to give children hope by showing them that we care. Adopt-A-Child provides a way to touch an individual child with your heartfelt donations.  All children make gift lists and letters to Santa. Many of our children do so, not knowing if their wishes will be granted on Christmas morning.  Every gift counts, whether it be $5.00 or a pair of slippers everything is greatly appreciated.
The Upper Peninsula community has helped us create joyous holiday memories for the children in our programs.  We are hoping to continue to build on those memories again this year.  If you are interested in participating in Adopt-A-Child please contact Karol Cardoni via e-mail
adoptachild@tfhomes.org
 or by telephone at 906-249-KIDS (5437). Now you can make your
monetary donation
online. Our fax number is 906-249-5438.