- Common Sense Parenting -
Common Sense Parenting (CSP) is an application of the Boys Town Family Home model of care to family settings. It is a skill-based, practical parenting program that applies to every situation. The program's logical strategies and easy-to-learn techniques address issues of communication, discipline, decision-making, family relationships, self-control and school success.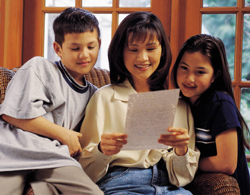 Common Sense Parenting has been researched and used by many schools, human service organizations and communities to help parents develop skills to improve their children's behavior. Parents at 25 Air Force bases participated in a collaborative child physical abuse prevention project designed by the USAF Family Advocacy Program and Father Flanagan's Boys' Home. Participants attended the Boys Town Common Sense Parenting program as part of a comprehensive prevention effort. Parents reported decreased child behavior problems, improved relationships with family members, and reduced risk for child physical abuse after attending parenting sessions. Between 19 and 30 percent of the parents also reported significant improvement in the areas assessed using Jacobson's Reliable Change Index. The California Evidence-Based Clearinghouse for Child Welfare has assigned Common Sense Parenting a rating of 3 (out of 5), indicating Promising Research Evidence of program effectiveness.
The stated goals of the training are as follows:
Develop a conceptual framework for understanding behavior from a family/relationship perspective.
Develop an understanding of learned parental responses impacting the behavior of our children.
Develop practical, "common sense" responses to children's behavior.
Develop practical tools for parenting today's youth.
Develop skills to reward and encourage appropriate behavior, while approaching negative behavior with a positive, teaching focus.
Reported outcomes from learning these valuable techniques, based on past workshops, are:
Decrease in reported child behavior problems.
Increase in family satisfaction and adaptability.
Decrease in investigations/out of home placement with abusive parents.
Improvements maintained at 3-month follow-up.
High level of consumer satisfaction.
The CSP Program consists of seven, two and a half hour, weekly sessions. A trained and experienced presenter from Teaching Family Homes of Upper Michigan facilitates the sessions and utilizes training techniques that consist of extensive role-playing, video and live demonstrations and support materials.  Due to the training techniques utilized, class size is limited to a maximum of twelve (12) participants.
Sessions typically are held on a weekday evening and are conducted in a community building such as a church, school building or conference room of a centrally located motel.
At the end of the program, participants are presented with a certificate of completion and the last session is reserved for wrap-up, post evaluation and a social time including refreshments.
For more information regarding future trainings or workshops, contact Jake Bilodeau at: (906)249-5437 or by email,jbilodeau@tfhomes.org