Teaching Family Homes celebrates High Ropes
Course Opening with Ribbon Cutting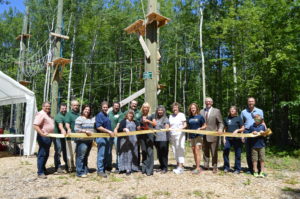 MARQUETTE – Teaching Family Homes recently teamed up with the Lake Superior Community Partnership (LSCP) to celebrate the opening of their high/low ropes courses. Outcomes include enhancement of cooperation, decision making, self-confidence, positive risk taking, social cohesion, trust, self-esteem, teamwork, goal setting and leadership- which are at the core of improving the health and wellness to our U.P. community. The courses are available for rental to both groups and individuals, with a 3 hour minimum.  For more information, contact Teaching Family Homes at 906.249.5437. Pictured from left to right: Jerry LePage, NMU Lineman Program Instructor, Mike Smith, TFH Ropes Course Coordinator, Mark Holliday, TFH Interim CEO, Kori Tossova, Western Marquette County Health Foundation Board Member, David Lynch, Marquette Board of Light & Power Assistant Director of Utility Operations, Dave Mastric, TFH Facilities Manager, Kia Richmond, TFH Board of Directors VP, Rich Rossway, TFH Marketing & Fund Development Director, Roxanne Daust, TFH Board of Directors President,  Susan LaFernier, Keweenaw Bay Indian Community Tribal Council Member, Nancy Seminoff, TFH Board of Directors Trustee, Sally Davis, Rotary Club of Marquette President, John Kivela, 109
th
District State Representative, Darlene Walch, Sands Township Supervisor, Matt Johnson, Eagle Mine External Relations Manager/Marquette County Ambassador, and his son Cole Johnson.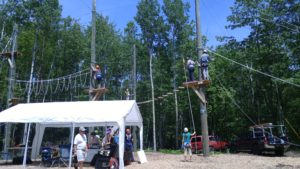 We unveiled our low ropes course (below) onSunday afternoon, April 10, and a group of hearty educators had a great adventure while learning teamwork and problem solving skills (see pictures below).  Once the snow melts, our course will be available for use for our entire community!!  For more information contact Rich Rossway at rrossway@tfhomes.org or call (906) 249-5437.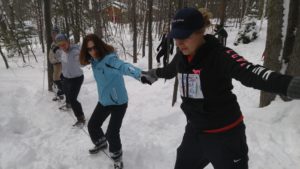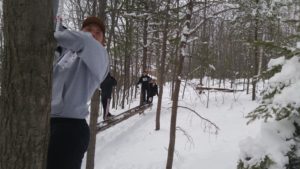 November 19, 2015
Completion!!
Our next step will be to finish the low ropes component, which will commence on the first week of April, 2016.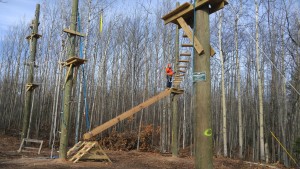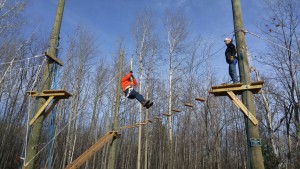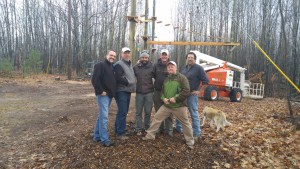 The crew and their slaves!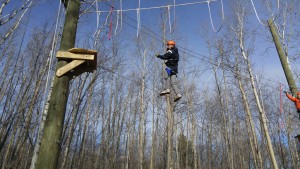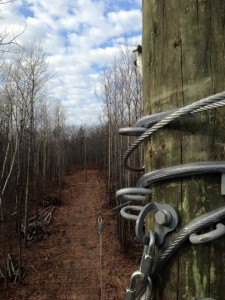 Birds eye view at the top of the 300' ZipLine
November 12, 2015
The incredible work by Pro Image Adventures is almost complete!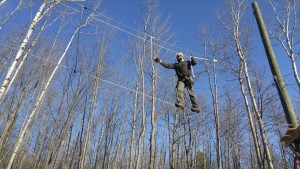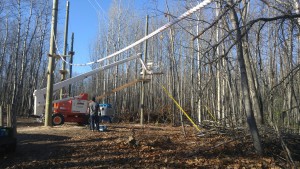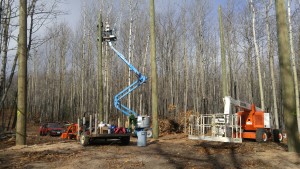 October 10, 2015
Progress!!!!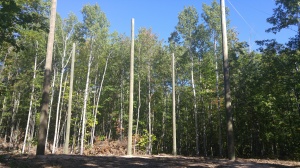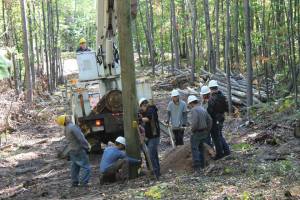 Our ropes course project took another big step recently! The students from the NMU Lineman program were able to use our project as an experiential learning opportunity. The Electrical Line Technician Program operates at the Midwest Skills Development Center – the former K.I. Sawyer Air Force Base in Marquette County. The program was developed by the Lake Superior Community Partnership Foundation and is a part of Northern Michigan University's Technical and Occupational Sciences Department. Northern Michigan University (NMU) provides the program instruction, implementation and certification. Thank you to Jerry LePage and his entire staff on donating their time, equipment and expertise!!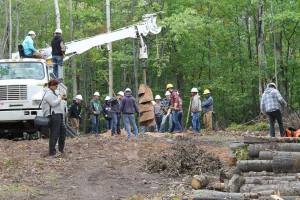 Expanding Experiences
Teaching Family Homes has established a model program to meet the needs of youth in a residential setting on one campus in Marquette, Michigan. Our youth have come from traumatic backgrounds and often lack the self esteem to help them move forward in their lives. We are combining increased opportunities for and encouragement in experiential learning, teaching our children about job skills and opportunities, providing skills to improve team building and positive outdoor experiences.
ROPES COURSE DEVELOPMENT
Teaching Family Homes is in the process of building a Low/High Ropes Course, with an estimated completion date of the fall of 2015. The Ropes Course will provide opportunities for our youth to learn team building skills as well as self-confidence. In addition to our youth, the High Ropes Course will be available for use by organizations and businesses. We anticipate a high demand for use of this low/high ropes course for corporate retreats and team building, as well as for use by the youth of our community, including public school students. The project will bring added value to our community by providing a unique experience that can assist in developing self-confidence, team building, and problem solving skills. Your contributions are appreciated, and for your convenience, you can donate online at
Teaching Family Homes Annual Campaign
. If you have any questions or would like more information, please contact Mike Smith at (
906
)
249-5437 ext 118
, or
msmith@tfhomes.org
August, 2015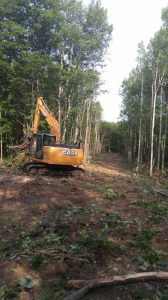 Smith Paving cleared the entire property, pulled the tree stumps, and cut the Zip Line course! It's taking shape!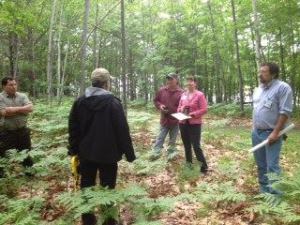 This was the original meeting to establish the low/ropes course site and take initial measurements.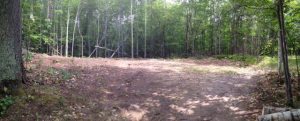 This is the site that was cleared in the spring.  We will begin with the low ropes components and then move to the high ropes.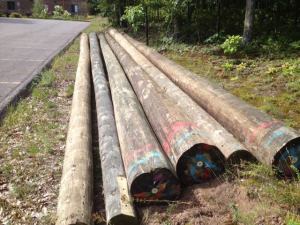 This are the utility poles that will be installed by the Electrical Line Technician Program students from Northern Michigan University, along with assistance from the Marquette Board of Light & Power. They will be installed in September 2015!